---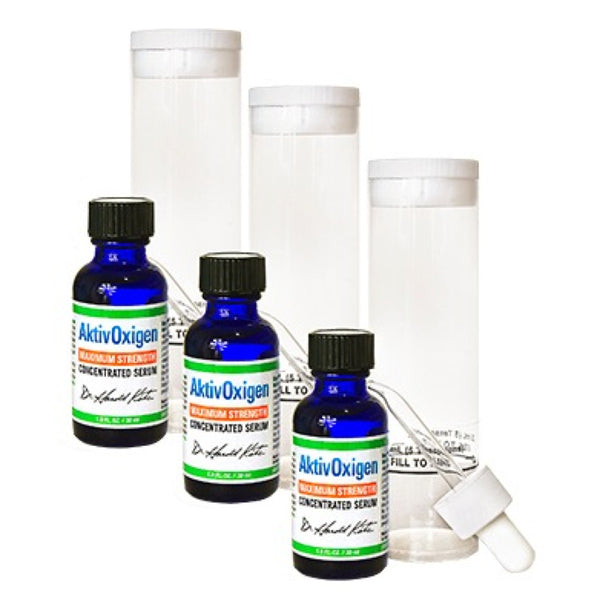 Sale
Same powerful concentrated OxyChlor compound as the
single Aktiv Oxigen
- but you save $ by buying the 3 Pack.
The AktivOxigen 3 Pack qualifies for
free
shipping in the United States, including Alaska and Hawaii.
Excellent for home use AND travel. The bottles are small and the serum is concentrated.
Works great in the
Hydro Floss
reservoir or to make any mouthwash more powerful.
For the Hydro Floss, you would normally use about 8 drops in the reservoir as per Dr. Katz the creator of the serum.
The interaction between the oxygen and the anaerobic bacteria is where the benefit is derived from.
Anaerobic bacteria are believed to be responsible for lots of dental health problems. The list may include bad breath, gum disease, and even dental caries (cavities).
The Hydro Floss is already a potent tool on its own and the theory is that adding the AktivOxigen drops to each reservoir may improve the benefits derived from using the Hydro Floss alone.
I personally do not always use these drops, but I have and I think they are good. I often benefit from listening to customers stories about the Hydro Floss and many derive benefits even without adding additional things to their reservoirs such as mouthwash or even AktivOxigen.
However, for those who do not already have something additional to use but would like to, the AktivOxigen drops are a good choice. Perio Therapy mouthwash which can also be found on this site would also be a good choice.
The Perio Therapy has the added benefit of being pH balanced. This makes it an excellent stand alone mouthwash with the benefit of the pH balance kicking in when used after an acidic meal or drink!
There are very, very few pH balanced mouthwash formulas out there. Perio Therapy is one of them. If you wish to use the Perio Therapy with your Hydro Floss - a single capful will do. This formula is among the more concentrated of the Therabreath line so the capfuls are actually quite small - much smaller than the caps of most mouthwash bottles.
Directions For AktivOxigen Serum
:
"Squeeze about 8 drops of AO serum from this bottle into the plastic measuring cup [it comes with a plastic container / measuring cup].
Add water or fruit juice (preferably orange or pineappple) to the lower fill line.
For a stronger solution, use 16 drops. You an also add a few drops to other mouthwash to make them stronger.
Made In The USA!
Use Coupon Code
toothy5
for a 5% discount at checkout!