---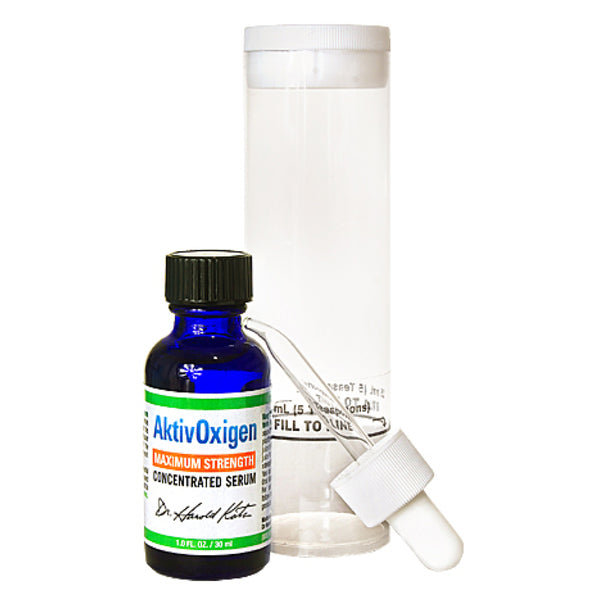 Sale
A concentrated oxygenated serum - a few drops adds a lot of power to any
mouthwash
or to the
Hydro Floss
.
Oxygen can help to eliminate the anaerobic bacteria that cause dental disease - cavities, gum disease and bad breath.
When these bacteria thrive in a low oxygen environment, oxygen can hamper their ability to multiply rapidly.
These bacteria never completely go away - however they can be reduced or controlled.
AktivOxigen - This serum is so powerful that you should not put it directly in the mouth - it must be diluted first.
According to the creator of this formula, 8 drops in the Hydro Floss reservoir should be sufficient.
This is a single bottle of the serum.
An experience was related to me by a customer. He called me and told me that he felt that AktivOxigen serum was responsible for clearing up a problem which affected the tissue inside his mouth.
He told me that his doctors and dentists had been unable stop it with anything they tried.
However, we don't make any health claims about this product. This is one man's experience and you should understand that when it comes to the human body, what works for one person may or may not work for another.
You should always be under the care of a dentist, doctor or periodontist for any and all health conditions or suspected health conditions. The USFDA also has not evaluated statements made about any products by me or on this site.
I like to use the AktivOxigen along with my Hydro Floss - I follow the 8 drops rule.
The Hydro Floss should be used twice a day with 2 full trays per use - I do NOT use the AktivOxigen every time. I think one time per use is fine. Just my personal opinion because many customer do ask me about this.
Use coupon code
toothygrins5
at checkout to take an additional 5% off the cost of the AktivOxigen!
Google