---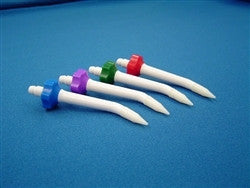 Package contains 4 Color Coded Pocket Pal Jet Tips.
These Are the Pocket Pal Jet Tips for use with the Hydro Floss Oral Irrigator.
The Pocket Pal Tips Ship Free When Ordered In Conjunction With a
Hydro Floss
Or Any Product Total above $25.
Instructions
: First, irrigate thoroughly at right angles (direct stream at tooth face) with the regular jet tips (instructions for use included with the Hydro Floss Oral Irrigator). This will clean the area and prevent pushing debris under the gum line.
Change tips, snap the "POCKET PAL" in the handle, reduce pressure setting down to "4", fill the reservoir and turn the unit on. Adjust the setting to a comfortable pressure. Direct the stream down into the gum. The "POCKET PAL" tips are designed to deliver irrigation into the gingival sulcus (gum pocket) area, up to 6 (six) mm.
During the active treatment phase, the beneficial effects of the Hydro Floss oral irrigator can be enhanced by adding an antibacterial substance to the solution. The "POCKET PAL" will deliver the solution deeper into the sulcus and more effectively reach the bacteria that causes periodontal (gum) disease.