---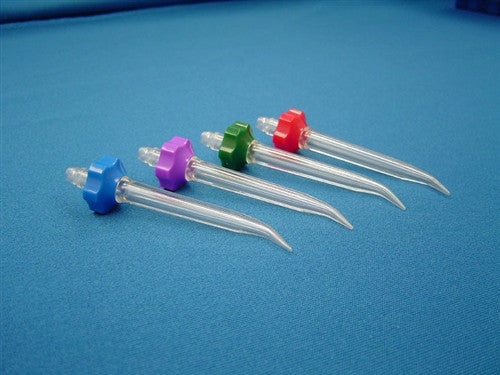 Sale
Sulcus Oral Irrigation Jet Tip
Instructions for Use:
1. Irrigate thoroughly using the standard jet tip. Instructions for utilizing the regular jet tips are included in your Hydro Floss - Call if you have questions.
2. Remove the standard jet tip and insert the Sulcus tip into the handle.
Important Safety Note
- Never use the Hydro Floss above pressure setting #5 when using the Sulcus tip.
(above 5 is fine with the regular jet tips)
3. Fill the reservoir. Turn the Hydro Floss on and adjust the pressure control to a comfortable setting (#5 or lower). Direct the stream to the point where the tooth meets the gumline.
4. It is important to remove the Sulcus tip after each use
Change the Sulcus tip often. It is suggested that the Sulcus tip be sued for no more than 30-45 days.
Notes: I personally prefer the Pocket Pal Jet Tips over the Sulcus Tips - They are both designed for 5-6mm pockets.
It is important to understand that the use of any tip, Sulcus, Pocket Pal or Cannula tip is in addition to the regular tips and NOT instead of.
If you have questions, call 1-888-586-6849.