---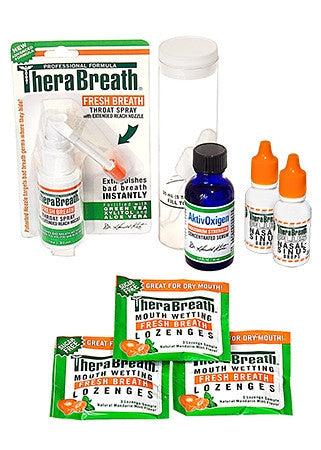 Tonsil Stone Removal Starter Kit
This is the basic tonsil stone removal kit. There is also a
complete tonsil stone removal kit
. Both kits come with full directions to help you to get rid of those annoying stones.
The symptoms of tonsil stones may or may not include any of the following, bad breath, a 'dry throat' feeling, as well as feeling uncomfortable in the throat when swallowing.
This kit contains the most essential items you need to get rid of tonsil stones and any associated smells that come with them and helps to prevent them from returning.
This kit contains:
Fresh Breath Throat Spray

1 AktivOxigen Serum

2 TheraBreath Nasal-Sinus Drops

3 TheraBreath Mouth Wetting Lozenge Sample (3pc)

1 Tonsil Stones Directions
This product does not contain:
Alcohol, Saccharin, Sodium Lauryl Sulfate, Benzalkonium Chloride (an allergen)
Also, see the Complete Kit which comes with much more