---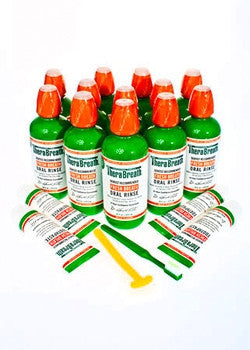 Sale
This is Therabreath's most popular formula.
You get 12 bottles of mouthwash and 4 toothpaste tubes of the regular therabreath formula. That's enough to last one person 6 months with regular use.
This is a big savings off the regular retail price for these items which would be: $174.
In addition, you also get a toothbrush and a tongue scraper.
Most people go through mouthwash/toothpaste at a ratio of 3 mouthwash bottles - 1 tube of toothpaste.
How To Use This Product
Brushing and Rinsing:
Gently scrape your tongue with the tongue scraper, reaching as far back as possible. Then put some of the toothpaste on the tongue scraper and coat your tongue as far back as possible without gagging.
Brush normally for 1-2 minutes, making sure to brush the roof of your mouth, the insides of your cheeks, and your tongue.
When you feel like you need to spit, do so, but
do not
rinse with water.
When you are done brushing, rinse thoroughly with the oral rinse, for at least 60 seconds.

Product Info
Item Code:MSBP-TBR-39
Contents: 12 TheraBreath Oral Rinse , 4 TheraBreath Toothpaste , 1 Tongue Cleaner , 1 Super Soft Toothbrush
Ingredients:
Does not
Contain: Alcohol
Saccharin
Sodium Lauryl Sulfate
Benzalkonium Chloride (an allergen)