---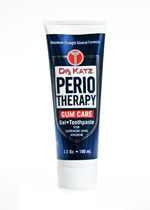 PerioTherapy Toothpaste has lots of goodness in it.
There is only one ingredient that some people may frown upon - Fluoride. Unfortunately, there is currently no 'Fluoride Free' version of this tooth paste as you will find with other toothpaste on this site.
But there is a lot of other positive ingredients for those who don't care about the fluoride issue.
Here are the ingredients:
Water (Aqua), Hydrated Silica, Sorbitol, Glycerin (from vegetable sources), Tetrapotassium Pyrophosphate, Tetrasodium Pyrophosphate, Xylitol, Sodium Fluoride (0.24%), Sodium Lauroyl Sarcosinate, Sodium Chlorite, Mentha Piperita (Peppermint) Oil, Zinc Gluconate (ZincRx), Aloe Barbadensis Leaf Juice, Sodium Benzoate, Ubiquinone (CoEnzyme Q10).
Does not contain:
Alcohol
Saccharin
Sodium Lauryl Sulfate
Benzalkonium Chloride (an allergen)
Directions:
Place a bead of Periotherapy toothpaste on your toothbrush and brush thoroughly. Be sure to brush all over - the inside of your cheeks, roof of your mouth, and back of your tongue.
For help preventing periodontal disease: using the Periotherapy syringe, squirt some of the toothgel into any pockets (gaps) you may have in your gums. Allow to sit for 3-4 minutes