---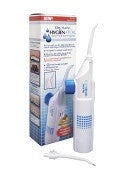 * This Product is no longer available: Try This Portable Irrigator instead

Customer Reviews

Stop!
- Please pay attention! This portable irrigator
DOES NOT
run on batteries or electrical power!
You MUST use your thumb on the button to pump it manually!
This is good for a purse or a small bag for work or camping.
Understand that there is NO BATTERY and NO ELECTRICITY with this Unit.
It is powered by your thumb only!
Alternative! : If you would like a battery powered portable oral irrigator, please

click here to see one

.
Do You miss the power of your
Hydro Floss
or other irrigator?
I know exactly what you mean. Whenever I travel I always miss my Hydro Floss and always wish there was a way to take it with me. If only that were practical!
Please be advised that while this is a portable and convenient device, it in NO WAY comes close to the Hydro Floss. In fact, it is a toy in comparison. This is only meant to be a travel aid. It is not for daily use.
This irrigator also does NOT have the power of HydroMagnetics like the Hydro Floss does.
Also, please understand that this portable irrigator does NOT use an electrical source. You
HAVE
to
pump it with your thumb
. It is not something you can plug into an electrical source.
If you are looking for the convenience of an irrigator to take with you to an area that has electricity, I think you should consider taking your Hydro Floss with you. Or you may consider purchasing a portable that is battery powered or electrically powered.
Again, this portable can only be used with hand pumping action! You can view it on the manufacturer's website by
clicking here
.
While not as powerful as the HydroFloss, this portable irrigator called The Hygienator - can help while traveling.
It is lightweight, and requires no electricity. It has a pump that you must squeeze with your thumb.
Even though it can't equal the power or capability of the Hydro Floss it is certainly a better than having nothing at all. If you are going somewhere with electricity, you should consider finding a way to bring your Hydro Floss with you.
If you miss your regular irrigator while travelling - this may or may not be the device for you. If you want the convenience of a battery powered or electrically powered unit, stick with the Hydro Floss, this portable is NOT the device for you.
This portable oral irrigator has an advantage of other portable oral irrigators in that it does not require a charging stand or batteries. The hand pump is surprisingly powerful. This feature gives the benefit of making the irrigator easy to stow and travel with - which is the whole point of a portable oral irrigator in the first place!
This model should not be confused with others that you might find in some portable oral irrigator reviews. It has the advantages described above.
Some other models that I am not currently carrying but will consider for the future are the panasonic portable oral irrigator known as the panasonic ew1270ac portable oral irrigator or simply the ew1270ac portable oral irrigator.
Again, the advantage of the hygienator is that it does not require an external power source. A portable is really for travel. When at home you should, in my opinion, be using the powerful
hydrofloss
.
The Hygienator can easily fit in a handbag.
The Hygienator makes a great stocking stuffer or gift for any occasion!