---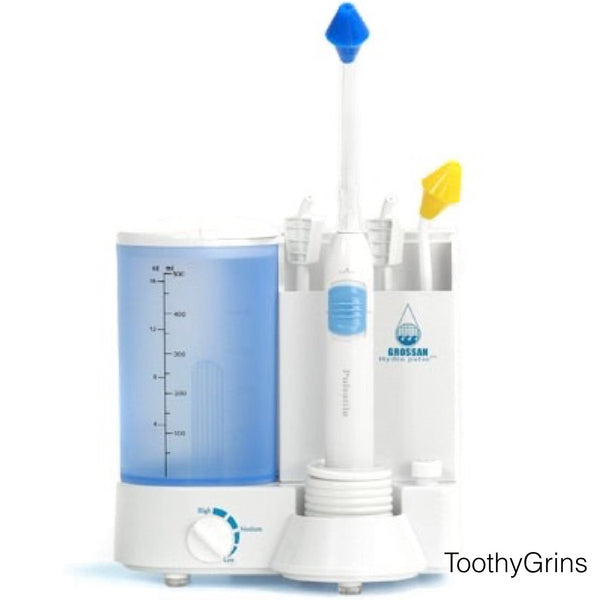 Free Shipping In The United States

The Grossan Hydro Pulse is often referred to as the hydropulse. Created by an ENT (Ear, Nose and Throat Specialist) specifically to relieve the symptoms of chronic nasal / sinus and allergy problems, many have found such relief.

Even in Dr. Grossan's booklet he mentions that many patients have been able to reduce or even eliminate their medication.

I have personally seen a total transformation of a coworker within 5 days of using this device. The dark circles disappeared and she was obviously full of energy that she did not have just a few days prior. Personally, I was able to clear up the symptoms of an awful head cold and that allowed me to sleep again.

I am perplexed at the number of people who ask ' where can I buy a neti pot '? While the neti pot has been used for thousands of years, the grossan nasal irrigator is a modern device that I believe is capable of far more than just a basic nose rinse. Instead of asking ' where to buy a neti pot ' - ask ' where can I get a hydro pulse '!

There are but a few nasal irrigators on the market. and Dr. Grossan most likely deserves the credit for bringing the modern versions to market. His booklet is full of good information that almost every single chronic sinus problem or allergy sufferer would want to know.

Much more than a sinus pot or a nasal pot, this device also comes with a special attachment for cleaning the back of the throat. People have often found this useful for dislodging and removing tonsil stones.

Patients have used this device to dislodge tonsil stones. It comes with a throat attachment to facilitate cleaning the tongue and back of the throat. Netty pots really cannot make that claim!

More than a nasal irrigation system, the hydro pulse is also a sinus irrigation system. It also comes with the power of xylitol to help kill bacteria.

The gentle sinus cleanse of the hydro pulse is based on 'pulsatile' irrigation. The idea is to help free the trapped cilia or 'motile hairs' - so that they can begin moving again and doing their job to keep your sinus and nasal passages free of debris and congestion.

Sinus irrigation system: The nasal packets that come with the Hydro Pulse are a mixture of saline and xylitol as mentioned above.

This nasal irrigation system comes with two tips for nasal and sinus irrigation and two throat attachments - this is so that two people can share the hydro pulse and enjoy the benefits of a good sinus flush. Unlike nasal pots this modern device is powered by electricity and operates on 110 Volt systems (North America). Outside of North America a converter may be needed.

Instruction booklet included. Enjoy your new Grossan Nasal and Sinus irrigation system. It comes with a 1 year manufacturer warranty.