---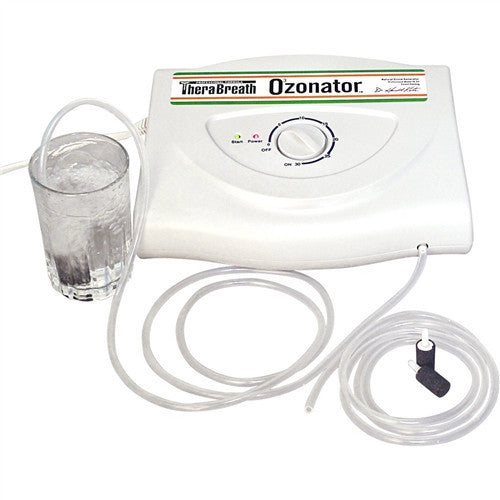 Sale
Video On your New Ozonator :


"Everyone in my family drinks Ozonated water. I have been ozonating tap water and have learned and seen that it is so much healthier than any other water. Thanks for the manual that came with the Ozonator. It was very useful."
-Brenda O. (Birmingham, AL)
My favorite use of ozonated water is to use it in conjunction with the
Hydro Floss
- either as an additional mouth rinse or added to the Hydro Floss reservoir!
I also like to clean my toothbrush and other home dental tools with ozone.
Molecular chlorine is 5 times LESS powerful than ozone.
Drink ozonated water, make any mouthwash more powerful, or create a topical oil treatment for burns, cuts - some use ozonated oil on other skin conditions too!
- For Ozonating Water and Oils
- Free shipping in the United States...
- 30 Day Money Back Satisfaction Guarantee
- 1 Year Manufacturer Warranty
- Instruction Manual Included
- Different shape aeration stones included
- 2 lengths of tubing included (only one is needed, second is a backup)
- 30 minute timer
- 400 mg Ozone Per Hour Max output
- Does NOT alkalize or change the pH of water
If you have questions about the ozonator or prefer to order by phone: Call 888-586-6849
Shipping is free for United States customers. Also available on
Amazon
*This machine is NOT intended for making eye drops. There is a doctor on the Internet who promotes that purpose. However, this machine is not made for that purpose, despite what that person might say. If you have any health issues whatsoever, work with a licensed, trained physician for proper diagnosis and treatment.