---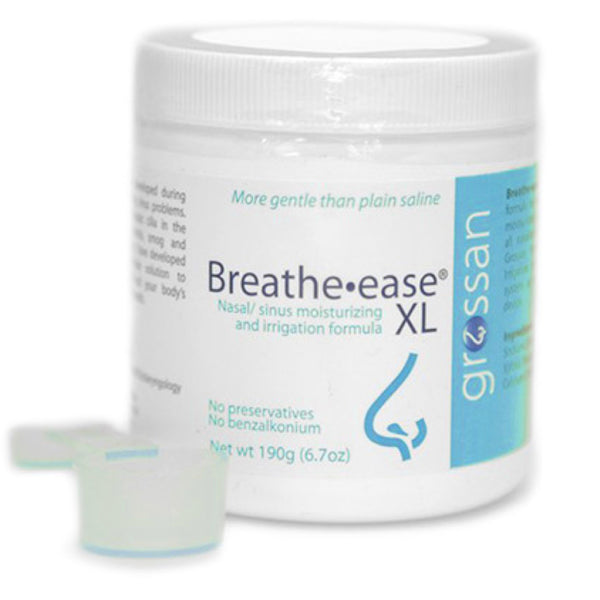 Nasal / Sinus Moisturizing and Irrigation Formula. 
No Preservatives
By Dr. Grossan
Nt. Wt. 190g (6.7oz) 
Breathe-ease XL is an enhanced formula for nasal irrigation, wash, or moisturizing spray. It is designed for all nasal / sinus irrigation. 
Breathe-easeXL was developed by Dr. Grossan during 40+ years of treating sinus problems. Millions of tiny microscopic cilia in the sinuses filter out bacteria, smog and particles as we breathe. He developed this safe preservative free solution to promote healthy cilia and your body's natural mechanisms for health. 
Ingredients: 
Sodium Chloride, Sodium Bicarbonate, Xylitol, Potassium Chloride and Calcium Chloride
Measuring Spoon Included
Use the larger end for 1 teaspoon, and the smaller end for 1/4 teaspoon measures.  
Directions:  
For all nasal / sinus irrigation: 
Mix one teaspoon in one pint or 500CC lukewarm water until completely dissolved.  
Warning: 
For your safety, do not use tap or faucet water for dissolving the mixture unless it has been boiled for five minutes or more as boiling sterilizes the water.  Other choices are distilled, micro-filtered (through 5 micron), commercially bottled or, as mentioned earlier, previously boiled water at lukewarm or body temperature. 
NOT FOR OPHTHALMIC (eye) USE.