---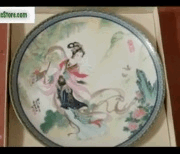 Sale
Sold Out - but you might find them here.
This is a complete series of 12 different plates in their original boxes with the original paperwork.
This is a full set of 12 plates of the
Beauties Of The Red Mansion
Series inspired by the classic Chinese tale
A Dream of Red Mansions
.
The series was created by a Master Chinese Artisan.
This series was sold new by the Bradford Exchange in the late 1980's and early 1990's.
Each plate comes in its original box with original paperwork.
Shipping and Postal Insurance is free.
If you have any questions call the number at the top of the screen. 1-888-586-6849.
See videos lower on the page.
I am the original owner of this plate series and we purchased every one until the series was complete.
These plates are stunning in their beauty. The artistic designs are classical Chinese unlike Western Classical art. You will recognize the difference instantly from the videos and pictures (when available).