---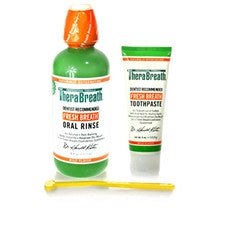 This is the very basic kit for combating bad breath. Based on oxygenated, pH balanced formulas, this is a better solution in my opinion than most of the products out there. Oxygen is the bane of the 'bad bacteria'.
Kit Contents
Containing one rinse, one gel, and one tongue scraper, this kit will get you started with the basic TheraBreath regimen. I suggest the
Complete Beginner's Kit
for those with odors coming from the back of the throat, sinus passages, or tonsil area.
Size:
Price:
$21.00
Contents:
1 TheraBreath Regular Oral Rinse
1 TheraBreath Regular Toothgel
1 Tongue Scraper
Ingredients:
This product does not contain:
Alcohol
Saccharin
Sodium Lauryl Sulfate
Benzalkonium Chloride (an allergen)
It is also deemed to be Kosher as well.
This kit is made in the USA, is vegan approved, Kosher, approved for diabetics, offers some teeth whitening potential and is for sensitive teeth. This is a recycling friendly product.