---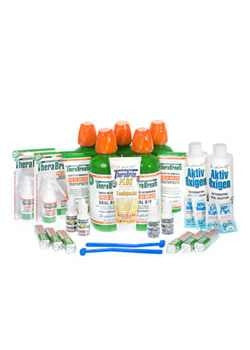 Sale
This is the family size starter kit. If you have an entire family that is fighting bad breath - and this is possible given that we often share bacteria, although individual factors are always at play - then this is the kit for you.
The savings are tremendous compared to buying each of the components of this kit separately.
Here is what you get with this kit:
5 Oral Rinses,
8 AktivOxigen Tablets,
2 Mixing Bottles,
2 TheraBreath Toothpastes,
1 TheraBrite Toothpaste,
2 Extinguisher Sprays,
2 Nasal-Sinus Drops,
2 Powerdrops,
6 Rolls ZOX,
2 Tongue Cleaners
Notes:
What a terrific value! Get enough TheraBreath for the whole family, or stock up for personal use, and save.
You get 5 bottles of our extremely popular oral rinse, 2 tubes of regular toothpaste, 1 tube of Whitening toothpaste, and 2 bottles of each of our breath spray, nasal sinus drops, and breath drops.
You also get 6 rolls of our revolutionary ZOX mints for quick on the go freshness and 2 tongue cleaners to help with your daily cleanings.
How To Use This Product
:
- Use the toothpaste and mouthwash two to three times a day to destroy germs and their unpleasant odors.
-The extinguisher spray is excellent to clean the hard to reach area at the back of the throat, particularly when away from home.
-Carry ZOX mints with you for a quick breath freshener any time you need it.
-Use the nasal sinus drops periodically to irrigate nasal passages and attack germs in the sinus cavity.
-Our Power Drops are the most concentrated version of our formula - just a few drops on your tongue will quickly combat dry mouth, coated tongue, and unpleasant flavor sensations.
-Dr. Katz