---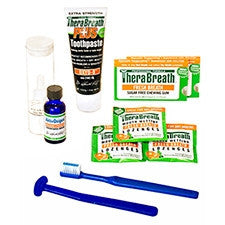 AktivOxigen Starter Kit
Adding Oxygen to your mouth is a great preventive measure that can also help to attack the bacteria that cause dental problems like bad breath, gum disease and cavities. The Anearobic (oxygen avoiding) bacteria are the ones that cause us problems.
Keeping them down to manageable populations can be very helpful to our dental health. It's great to avoid expensive dental treatments when possible. It is easy to imagine how this might help us to move in that directions.
Description
AktivOxigen Starter Kit
Concentrated and potent AO Serum can be mixed with water or fruit juice to produce an oral rinse that is very effective at
cleansing your throat & tonsils
. Our TheraBreath PLUS toothpaste is our most advanced and
maximum strength
formula and has a mild, deliciously minty taste. This kit also includes our Fresh Breath Chewing Gum, Mouth Wetting Lozenges, a tongue scraper and super soft tooth brush.
Contents:
1 Aktiv-Oxigen Serum
1TheraBreath PLUSToothpaste
2 (12 pieces) TheraBreath Chewing Gum - SKU#CHWG-TBR-186
1 Roll of ZOX Mints - SKU# HWG-TBR-101
1 Tongue Cleaner - SKU# ACCS-MSC-49
1 Toothbrush - ACCS-MSC-50
Ingredients:
This product does not contain:
Alcohol, Saccharin, Sodium Lauryl Sulfate, Benzalkonium Chloride (an allergen)