---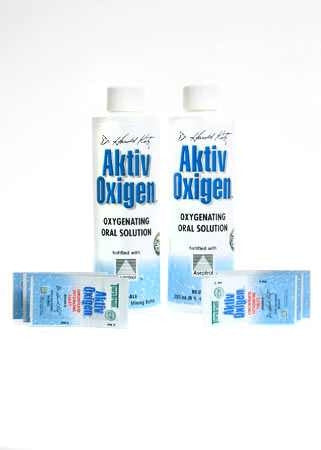 Sale
12 Tablets and 2 bottles (occasionally 3 bottles)
Make your own powerful oxygenated mouthwash with these AktivOxigen tablets.
Mix one of these tablets with 8 ounces of water. Clean your throat and tonsils before bed. You can also use your home made rinse in your
hydro floss
This item ships
free
in the United States, including Alaska and Hawaii.
Directions:
Depending on the severity of your problem, place1 or 2 AktivOxigen tablets into the special bottle. Fill bottle with tap water.
Close cap tightly and shake for 10 seconds.
AktivOxigen Oxygenating Solution is now ready to use as:
1. A Potent Oxygenating Oral Rinse. Rinse mouth thoroughly with 2-3 capfuls of AktivOxigen Oxygenating Solution each time for 90 seconds. Also dip your dental floss into the solution and then proceed to floss.
2. A Powerful Breath & Taste Refershing Gargle. Use 2-3 capfuls of AktivOxigen Oxygenating Solution and gargle for 90 seconds. Great for cleansing dry, sticky throats. For a refreshing taste, AktivOxigen Oxygenating Solution, can be refrigerated.
3. A Part Of Your Daily Oral Hygiene Program. Use AktivOxigen Oxygenating Solution in conjunction with Therabreath. Oxygenating Products (Tooth Gel, Breath Spray, PowerDrops, and Chewing Gum) For Superior Oral Health!
Active Ingredients: Sodium Chlorite & Sodium Bisulfate.
The two bottles are recylcable. Not tested on animals!
You can use
coupon code
toothygrins5 to get 5% off at checkout!