---
Posted by David S on
Interesting Info On Gum Disease and Covid-19   Researchers have, for many years, noticed a relationship between gum disease and heart disease, lung disease, diabetes and a number of other illnesses.      Farmers have always known that the health of livestock is reflected in their mouths.  Hence, the saying, "Don't look a gift horse in the mouth".      Now, The Journal of Clinical Periodontology has published an article indicating that there is a relationship between gum disease and Covid-19 in the sense of higher risk of ICU admission, ventilator need and death.     You can read more here:  https://www.theepochtimes.com/patients-with-gum-disease-9-times-more-likely-to-die-from-covid-19-study_3691940.html   As you...
---
Posted by David S on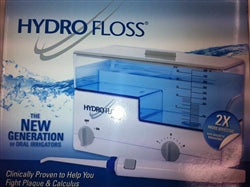 The HydroFloss may be one of the most powerful tools that you can employ in your own personal home dental health routine.